Cailfornia is #1 in BVL!
BVL donations for the 2016-17 season are in and once again, California bowlers top the list with $108,500! The best bowlers come from California!
CA State Bowling Shirts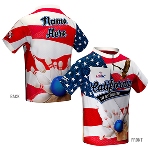 It's not too late to get your CA State Championship bowling shirt! Available in polo, crew, vee and mock-zip neck styles.
Order Online
2018 Open & Women's
Championship
Keystone Lanes, Norwalk, CA
April 20 - July 1, 2018
Details and registration
2018 CA Youth
Championships
Keystone Lanes, Norwalk, CA
July 21-22 & 28-29, 2018
Details and registration
2018 CA Senior Singles
Championships
Rancho Bowl, Santa Maria, CA
August 16-19, 2018
Details and registration